Women's Studies Institute Brown Bag Talk: "Spectral Parenthood: An Anthropology of Child Ghosts in Thailand"
The Women's Studies Institute will hold its second brown-bag session of the 2010-2011 year on Wednesday, October 27, from noon to 1 p.m.
In this session, Prof. Megan Sinnott of the Women's Studies Institute, will speak on "Spectral Parenthood: An Anthropology of Child Ghosts in Thailand." This talk reflects Prof. Sinnott's recent interest in the social and political circulation of ghost and spirit stories.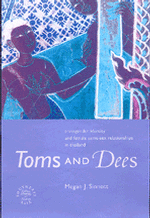 Prof. Sinnott's research has focused on sexuality, gender, and nationalism in Thailand, with emphases on female same-sex relations and transgenderism. Prior to coming to Georgia State University, Prof. Sinnott taught anthropology and women's studies at Mahidol and Thammasat universities in Thailand, the University of Colorado-Boulder and Yale University.
Prof. Sinnott's book, Toms and Dees: Female Same Sex Sexuality and Transgender Identity in Thailand (2004) won the 2005 SOLGA/American Anthropological Association's Ruth Benedict Prize for best monograph. (A new copy is on its way!)
Sinnott has also published chapters in the following books:
Sinnott's talk will be held in the Georgia State University Library's Colloquium Room, on the 8th Floor of the Library South building. The session is free and open to the public. All are welcome!