Georgia State University Library at the 2010 Georgia Council of Media Organizations (COMO)
From October 13 until October 15, fourteen of Georgia State University Library's personnel presented at the 2010 Georgia Council of Media Organizations (COMO). This conference is a collaboration between a diverse set of librarians and instructional technologists, designed to inspire and educate one another with new ideas. Georgia State's librarians permeated the conference, sharing their research, winning awards and leading the way toward the future of libraries. Below is a brief account of their contributions.
Cliff Landis, Web Services Librarian
One of the busiest Georgia State librarians at the conference, Cliff Landis presented three times, including the closing keynote address of the conference. His other presentations included collaborations with his colleagues Rebecca Drummond and Sarah Steiner. With Drummond and other Georgia librarians, he shared information about GIL-FIND, the new interface for the library's catalog. Steiner, Landis and others later provided advice on beginning a text reference service at an academic library.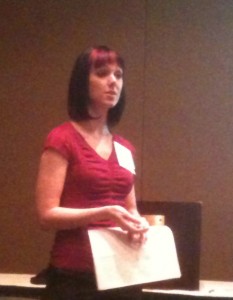 Sarah Steiner, Social Work Librarian and Virtual Reference Coordinator
Steiner (pictured) received the Bob Richardson Award at the conference, for "significant contributions of time and effort" to the Georgia Library Association. She also co-presented on practical online and in-person personal marketing techniques with Ashley Dupuy of Kennesaw State University. With colleague Cliff Landis and others, Steiner provided advice on beginning a text reference service at an academic library. Finally, Steiner also co-hosted COMO's first Battledecks competition with Tessa Minchew of Georgia Perimeter College.
Rebecca Drummond, English Librarian
Drummond, colleague Cliff Landis and others presented on using GIL-Find in Library Instruction and Refrence work and the marketing of the catalog through brochures, blogs, and web banners.
Todd Prusin, Nursing Librarian
Prusin, along with former Georgia State librarian Casey Long, presented the benefits and drawbacks of online education/distance learning.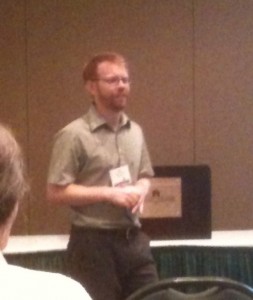 Joe Hurley, Data Services Librarian
Geographic Information Systems (GIS) are Joe Hurley's (pictured) specialty. At COMO he provided a brief introduction to GIS and GIS Resources. Hurley taught others what GIS is, how GIS is being used by researchers and the public, and shared a few freely available GIS resources.
Jennifer Jones, Assessment & Staff Development Librarian
Jennifer Jones' paper, "Using Swipe-Card Data to Inform Decision Making," was selected by the Academic Library Division of the Georgia Library Association/Georgia Chapter of ACRL for presentation at the conference. The paper details the library's use of demographic data of its visitors and is available through the Digital Archive @ Georgia State University.
Tricia Clayton, Collection Services Librarian
Clayton shared information about newly available (free) primary source projects that library patrons can use for research and teaching, as well as tricks for discovering these collections. LuMarie Guth the government documents coordinator/business liaison librarian at Columbus State University even compiled notes and links from Clayton's presentation on her own blog!
Jason Puckett, Communication Librarian
Resident Zotero expert Jason Puckett gave a how-to on the program, exploring the role of open-source tools and its implications for information literacy. It was well-attended and a lively discussion ensued.
Laura Burtle, Associate University Librarian, Technology Services and Special Collections
Christian Steinmetz, Creative Manager
Along with Atlanta-Fulton Public Library's Kelly Robinson, Burtle & Steinmetz discussed how to reach a library's users through public relations techniques ranging from traditional press releases to Web 2.0 applications. Steinmetz presented on the importance of audience analysis in marketing, while Burtle focused on the role of the web and social media.
Brenna Helmstutler, Education Librarian
Helmstutler presented on the emerging topic of librarians providing promotion and tenure outreach to tenure-track faculty with the main goal of guiding faculty towards citation analysis and journal evaluation sources to assist in showing comprehensive evidence of scholarly impact for the tenure application.   "United by Scholarly Impact: Advancing Faculty-Librarian Partnerships via Promotion and Tenure Outreach" focused on an exploratory study Brenna conducted in which librarians from doctoral universities offering promotion and tenure outreach activities were interviewed.    The results revealed organizational implications in developing a promotion and tenure outreach program and its benefits which serve to advance library support for faculty research.
Daryle M. Maroney, Catalog Librarian
Maroney ran the GLA Technical Services Interest Group Business Meeting. At the meeting Technical Services librarians could learn about and participate in this professional group.
Kat Hart, Electronic & Continuing Resources Librarian
William Walsh, Head of Technical Services
Walsh & Hart shared their experiences with troubleshooting electronic resource access issues.