Rahna Carusi appointed first endowed graduate assistant for Women's Collection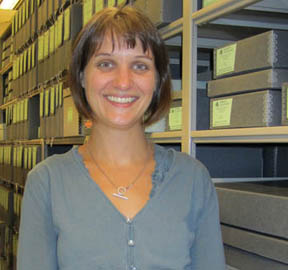 Rahna Carusi has been named the first endowed graduate assistant for Georgia State University Library's Women's Collection, a position generously supported by Our Mothers' Fund (established by Margaret Miller Curtis and Dorothy Gibson-Ferrey) and the Donna Novak Coles Endowment. Rahna is a PhD candidate in GSU's English Department, studying Literary and Critical Theory, Psychoanalytic Theory, Feminisms, and Queer Theory.  While she was working on her Masters in Literary and Critical Theory at Boston College, she helped to process the Graham Greene Papers at the John J. Burns Rare Books and Manuscript Library. Rahna's first task as endowed graduate assistant is to arrange and describe a discreet portion of the expansive Gretta Moll Dewald Papers (1944-1994).
Long-time Democrat and women's and environmental rights activist, Gretta Dewald was a charter member of the Board of Democratic Women of DeKalb County (1969), rising to the presidency of the county's Democratic Party (1970-1972). She worked on Jimmy Carter's gubernatorial campaign (1970) and was a member of his 1976 Peanut Brigade. After Carter's inauguration, Dewald was invited to chair the Women's Division of the Democratic National Committee. From 1981-1989 she served as Executive Assistant for DeKalb County CEO Manuel Maloof – the first woman to hold the position. In 1989, Dewald organized the DeKalb County pretrial release program and managed the system until her retirement in 1994. She died in 2006.
The Gretta Moll Dewald Papers (1944-1994) consist of approximately 300 cubic feet of materials that document Dewald's political, activist, and professional career. The materials that are currently being processed relate to Jimmy Carter's gubernatorial and presidential campaigns (1970-1976), and to Dewald's experiences heading the Women's Division of the Democratic National Committee (1976-1980).