Reconstructing a Musical Score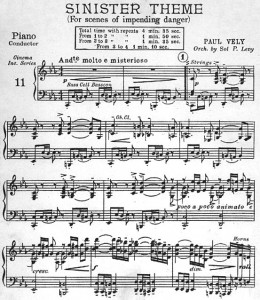 A recent researcher utilized sheet music from the Frances Wallace Papers for a project involving the reconstruction of the musical score to a 1919 silent film titled The Red Lantern.  The film, believed to be lost for 90 years, was recently found at the Royal Belgian Film Archive.  To re-create the soundtrack, the project team discovered a list in an issue of Moving Picture World magazine of over 44 music cues and the times in which the accompanying pianist or orchestra was supposed to play them.  The researcher was able to acquire 10 of the 44 pieces of music through our collection.
In addition to the silent film sheet music, the Frances Wallace Papers include radio scripts from WSB and WCON radio, dance and band arrangements, performance notes, contracts, and publicity materials related to her career as a pianist and organist in the Atlanta area.
Questions about the music collection in the Special Collections and Archives Department should be directed to Kevin Fleming, archivist, Popular Music and Culture Collection, at 404-413-2880 or archives@gsu.edu.