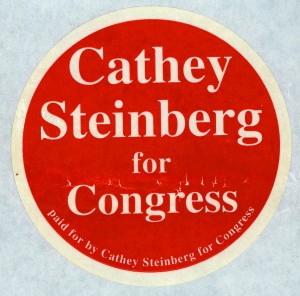 The political papers of Georgia state legislator Cathey Steinberg are now available for research in the Women's Collection, part of GSU Library's Special Collections and Archives. Steinberg is recognized as a leader for consumer, family and women's rights.  
The Cathey Steinberg Papers, 1976-1994 consist mostly of correspondence, news clippings, legislation, printed materials, reports, speeches, and campaign materials.  They document Steinberg's work in the Georgia House (1977-1989, District 46) and Senate (1991-1993, District 42) and her various campaigns for political office, including those for the Georgia Public Service Commission (1988) and the United States Congress (1992). Most prominently featured are documents relating to Steinberg's legislative efforts on behalf of the Equal Rights Amendment, and women's, family, elderly and consumer issues.
Established in 1995, Georgia State University's Women's Collection is dedicated to collecting, preserving and making available the documentary heritage of women in Georgia and the South.