The digATL Portal – Linking Campus to Community Through Digital Content
Inspired by Georgia State's new strategic focus on "Identity, Placemaking, and Belonging" and in order to promote research and learning about our city and region, the University Library has launched digATL: The Digital Atlanta Portal to provide a single online destination to showcase and share the many projects, collections, and data about the metro area produced by GSU students, faculty, and staff working with and within their local communities.
That's digATL (pronounced didge'-A-T-L).
Check it out at digatl.library.gsu.edu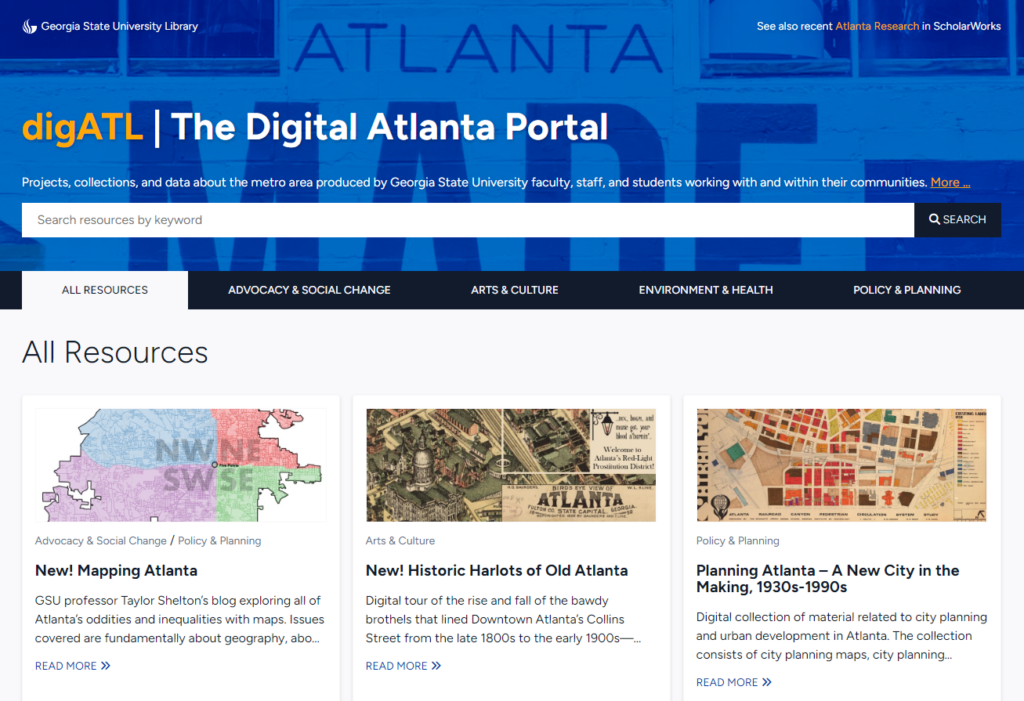 The site's objectives:
Contribute to research, scholarship, and creative activity focused on the city of Atlanta and our metro region.
Support student success by providing convenient and open (free) access to primary and secondary sources for learning about our city and region across multiple disciplines.
Foster place-based identity and belonging by linking GSU learners and researchers with resources produced and pertaining to "where they are."
We invite you to explore the 50+ projects and resources currently available through the digATL Portal.
Also note the handy link to the most recent Atlanta research happening at GSU – doctoral dissertations, master's theses, journal article manuscripts, etc. – located in upper right-hand corner.

Everything here is free and open to our local communities and beyond. It's our hope that learners and researchers at all levels will find the digATL Portal both useful and engaging and we welcome your feedback and content suggestions.