Archivists Bring History to Life at Druid Hills Middle School
On Monday, March 27th, librarians and archivists from the Georgia State University Library visited Druid Hills Middle School in DeKalb County, to work with Ms. McClure's 8th grade Georgia Studies students.  Our team pulled original and reprinted news articles, objects and photographs, accompanied by oral history clips from those that were involved in the Civil Rights struggles in Georgia.
Many of the original items and objects used in this hands-on workshop came from our Southern Labor Archives, Georgia Government Documentation Project oral histories, and the M.H. Mitchell – Southern Structure collection. Items were also featured from our University Archives and Atlanta Civic and Neighborhood History collections.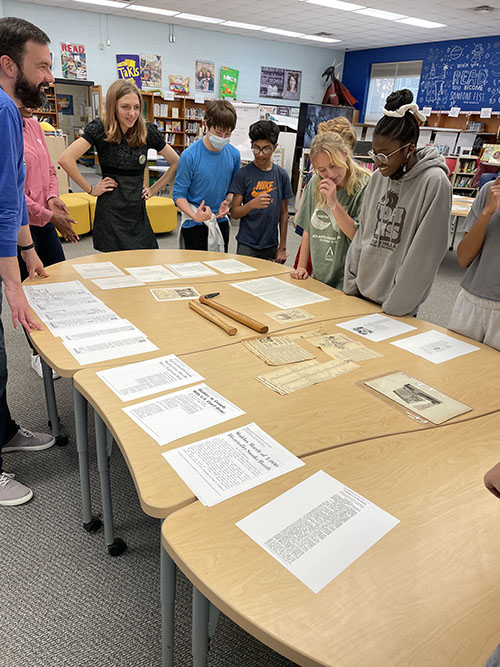 The Special Collections & Archives at Georgia State University has allowed me to create the M.H. Mitchell, Inc. collection of Southern Structure which served to share the experiences of the past with these students – who will govern our future. The Special Collections & Archives has shown me the value in giving and why investing into our libraries is the foundation of preserving our culture and identity." – David Mitchell, Donor to the GSU Library
Photo: Students look at items related to Lester Maddox, including two pickricks signed by Maddox.
Most of the students were particularly intrigued by Lester Maddox and his brazen, racist behavior. They were particularly interested in the pickricks that were donated by David Mitchell.  One student wrote "The thing that stood out the most on Monday when we saw all those primary sources was the pickrick stick. The reason that stood out…was because it was a real physical item that was used in such a horrible way in its time right in front of me just there and that fascinated me very much just thinking about what that stick could have been used for." Another student commented, "I thought this idea was very creative and interactive. It was cool to see primary sources right there in front of you. One thing that I didn't really comprehend until Monday was how recent ago this was. I was looking at the dates and thinking, 'This is when my great-grandmother was born!'"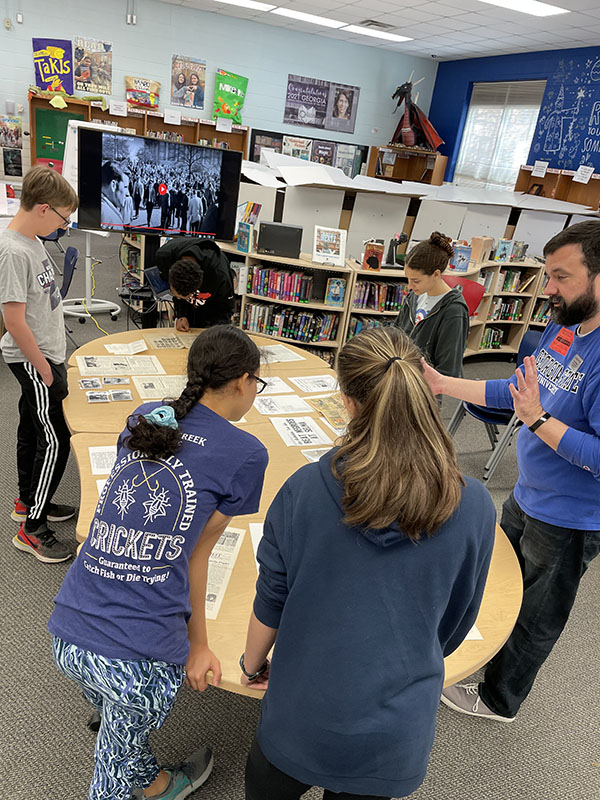 The students raved about the exercise and complained that they didn't have enough time to fully engage with all of the materials. For next year, Ms. McClure hopes to re-engage our Special Collections and Archives faculty in an exercise where the students will create exhibits on a particular aspect of the Civil Rights movement in Georgia so that they have more time to engage with one aspect of Civil Rights.
Thanks to our librarians and archivists, Laurel Bowen (University Archivist), Josh Hogan (Digital Preservation and ACNH Archivist), Morna Gerrard (Women/Gender & Sexuality Archivist), Brittany Newberry (Music & Popular Culture Archivist), Scott Pieper (Associate Department Head, Decatur Campus Library), Lisa Vallen (Southern Labor Archivist) and Christina Zamon (Head of Special Collections & Archives) for pulling together this hands-on workshop for the students of Druid Hills Middle School. Also, thanks to Ms. Kendra McClure and Marcia Kochel, Teacher Librarian and Stephen Burrows, Library Media Assistant for inviting us into their school.