Celebrate Atlanta Lesbian Feminist Alliance's 50th Anniversary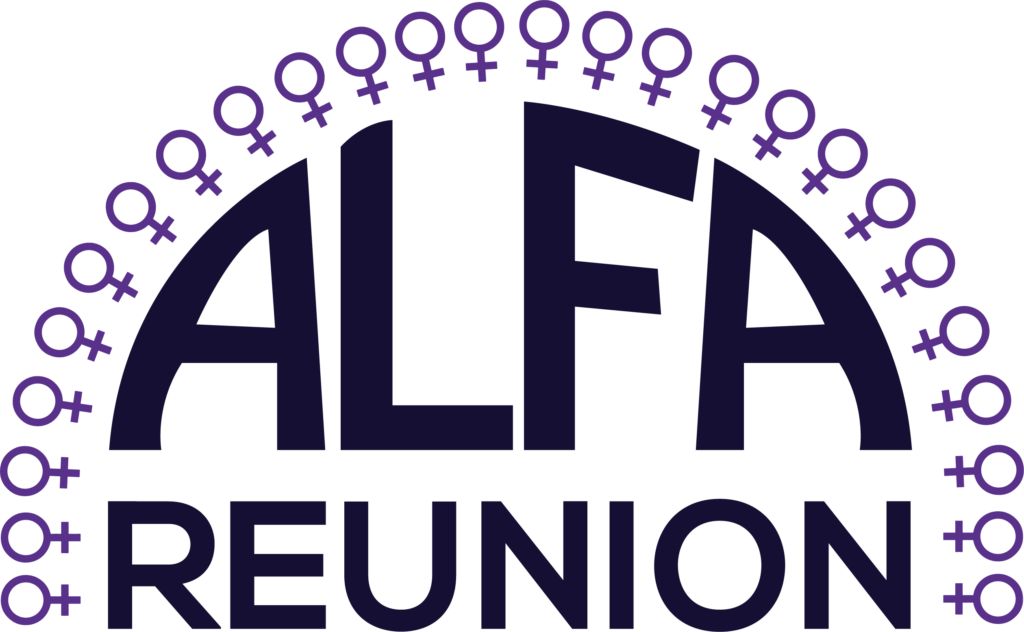 Thursday, June 23, 7:00 – 9:00 pm
This virtual event is free and open to the public
Register for this event
Note: To attend the event, you will need an updated Zoom account
This event will be recorded for future viewing. If you do not wish to be seen in the video, please turn your video off.
ALFA 50: A Remembrance & Celebration of the Atlanta Lesbian Feminist Alliance
ALFA held its first official meeting 50 years ago on June 23, 1972. ALFA was the first out lesbian organization in Georgia and was formed by a group of lesbian and feminist sisters who had been activists in a multitude of movements of the time, including those for Civil Rights/Black Empowerment, Women's Liberation, anti-war/anti-imperialist, and workers' rights/socialist/anti-capitalist. Lesbian & Gay* Liberation joined these movements. ALFA was a combination social and political organization which held, and valued, women-only space. Over the years many other lesbian groups and organizations found their roots in ALFA and the lesbian network she created. We celebrate her history as part of queer history and the ongoing struggle for human rights in our world.
---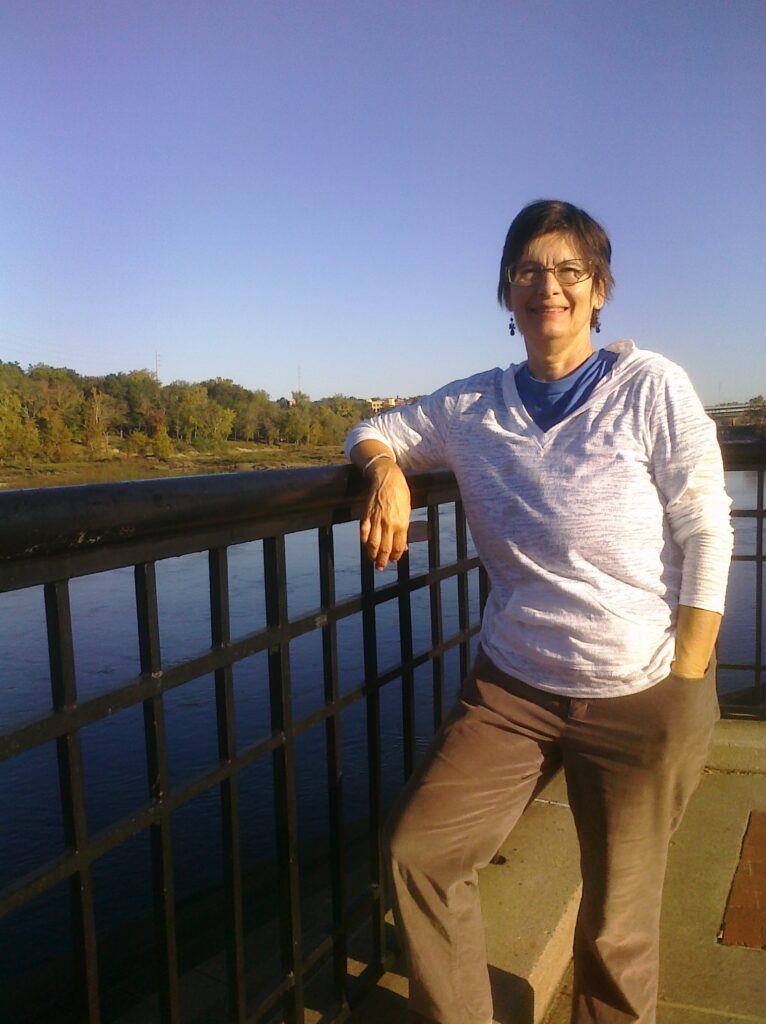 Chris Carroll
Chris Carroll was born in Appalachia and grew up in Maryland. After graduating from a Southern university in the early 1970's, she came out and moved to Atlanta to join the lesbian community around the Atlanta Lesbian Feminist Alliance. She was active in promoting lesbian music on women's music labels, and in producing concerts by lesbian artists. She also hosted a women's music show called Still Ain't Satisfied on WRFG, and was the station manager for a number of years. She still lives in the Atlanta area with her longtime partner.
---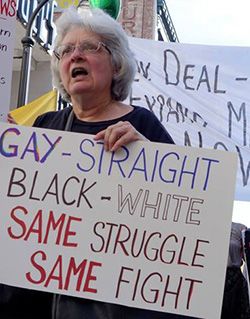 Lorraine Fontana
Born to a working class family in Queens, NY, Lorraine Fontana became an anti-war activist and supporter of the Civil Rights and Black Empowerment Movements early in life. After joining VISTA in 1968, she came to Atlanta, and together with other feminists, founded the Atlanta Lesbian Feminist Alliance (ALFA), and later DARII (Dykes for the Second American Revolution). She trained at the People's College of Law in L.A. (1976-79) and went on to work with the National JuBorn in Queens, NY, in 1947, Lorraine Fontana became an anti-war activist, socialist, and supporter of the Civil Rights and Black Empowerment Movements early in life. After joining VISTA as part of the War on Poverty in 1968, she came to Atlanta, and together with other feminists, founded the Atlanta Lesbian Feminist Alliance (ALFA – 1972 to 1994), and DARII (Dykes for the Second American Revolution). She trained at the People's College of Law in L.A. (1976-79) and later used her legal training at the National Jury Project (1980-82), Georgia Legal Services (1982-83), the EEOC in New York City (Oct 1999 to Jan, 2004), and the Lambda Legal Education & Defense Fund (2006-2012). She was a member of the short-lived Queer Progressive Agenda (QPA), and is currently a Chair of First Existentialist Congregation of Atlanta's Social Justice Guild, a member of the Atlanta Grandmothers for Peace, Atlanta Democratic Socialists of America (ATLDSA), as well as a supporter and co-conspirator of Southerners on New Ground (SONG), the Alliance for Black Lives, the Atlanta Housing Justice League, and Charis Books.
---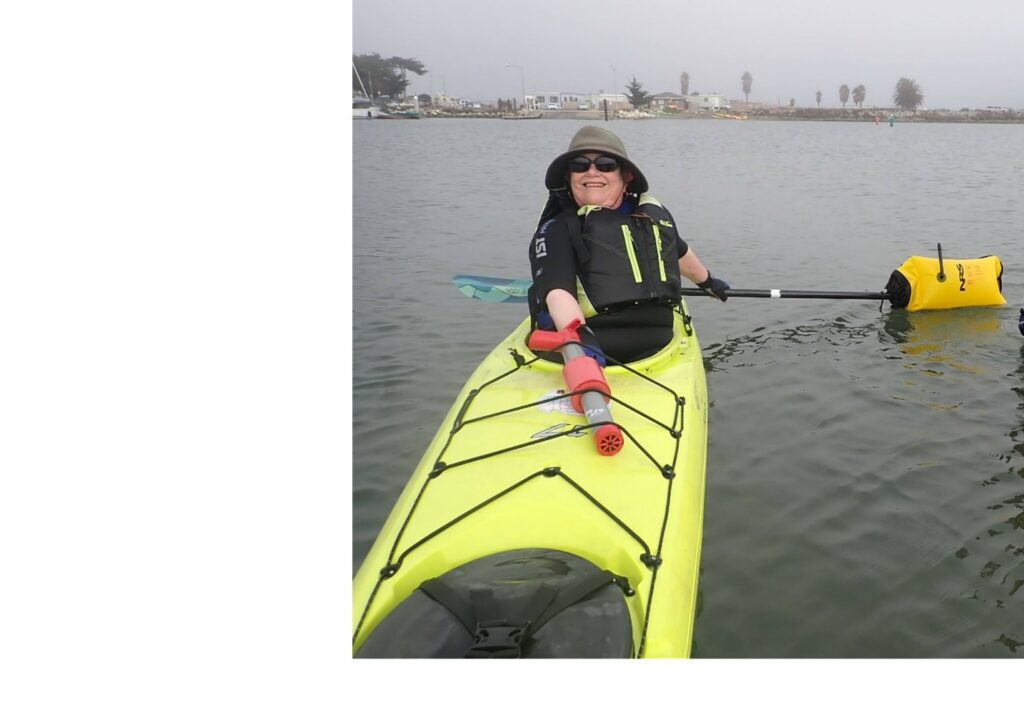 Margo George
Born in Atlanta, Margo George's parents were labor organizers who became workers' lawyers. During the mid-1960s, Margo spent her summers volunteering at Head Start or copying briefs at the Georgia ACLU. In the summer of 1968, she began studying at the University of California, Berkeley where she met the love of her life, Cathy. Their youthful impatience to change the world was fueled by the demonstrations unfolding every day on campus. They dropped out of Berkeley and traveled around the country, finally ending up back in Atlanta in the early1970's.
In Atlanta, Margo and Cathy were among the post-World War II wave of women in the trades, Margo was in the local carpenters' union while Cathy was a surveyor. During this time, they became active with all kinds of organizations devoted to women's and lesbian gay culture and rights.
In 1982, Margo and Cathy moved back to the West Coast for law school. Almost 40 years later they live in Oakland with their three cats. Margo has worked as a public defender for over 30 years and continues advocating for criminal justice reform focused on mental health and providing resources to disadvantaged communities rather than prison cells in the California legislature. Free time is spent kayaking.
---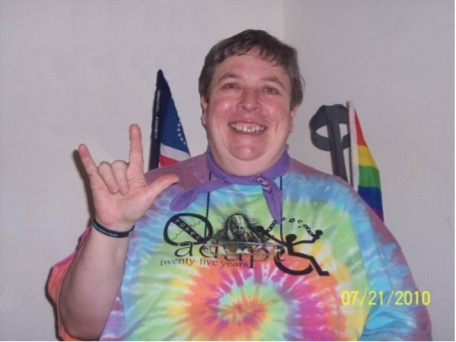 Elaine Kolb
Elaine Kolb has been a cultural worker for over 50 years. As a poet, songwriter, activist and performer, her issues include Peace with Justice, Disability Rights, and LGBTQIA rights.
After going to Cuba in 1970 as part of the Third Venceremos Brigade, Elaine moved to Atlanta in 1971, staying for a while at the Ruby Fruit Jungle. She then moved into the original Atlanta Lesbian Feminist Alliance (ALFA) House. At WRFG (Radio Free Georgia) Elaine produced weekly programs, including "Lesbian/Woman". Early in her songwriting career, she wrote the title song for Womansong Theater, also performing with them.
Stabbed in the back at age 28, Elaine is partially paralyzed with a spinal cord injury. She was awarded a Fulbright Scholarship to Australia as part of the United Nations International Year of Disabled Persons in 1981, joined American Disabled for Accessible Transportation (ADAPT) in 1987, and then was very much involved in the passage of the Americans with Disabilities Act (ADA) in 1990. She is a member of NOT DEAD YET, as well as Second Thoughts Connecticut, and locally, she works with Mothers & Others for Justice. Elaine uses humor, music, and personal stories to touch & open hearts, minds, & souls.
---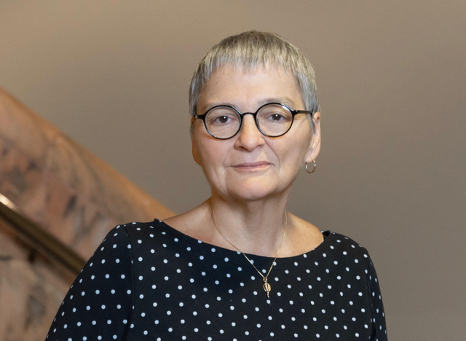 Pici
Pici (frances anne Pici) was born and raised in Buffalo, NY. In 1974, she moved to Atlanta, GA, and immediately joined the Atlanta Lesbian Feminist Alliance (ALFA. She also joined the ALFA Omegas, the first 'out of the closet Lesbian Feminist softball team' to play in the City of Atlanta leagues.
From 1974-1979 Pici was one of the founding mothers of Red Dyke Theatre (RDT), a lesbian feminist theatre troupe. After RDT disbanded, Pici became a City of Atlanta softball umpire, and also went on to Solo-Performance as a Feminist Mime and Comic. In 1982, Pici began her career at CNN in the CNN Library and in 1994 was part of the team who created and deployed CNN.COM. With a goal to remain in Higher Education and Academia, in 2008, Pici started a new career at Emory University working in Emory's Woodruff Library, managing the Music and Media Library, and later as a Digital Repository Analyst in Emory Library's Scholarly Communication Office. In 2020, Pici officially (and happily) retired and moved back to New York to live the dream with her soul mate and wife of 46 years Harriett.
---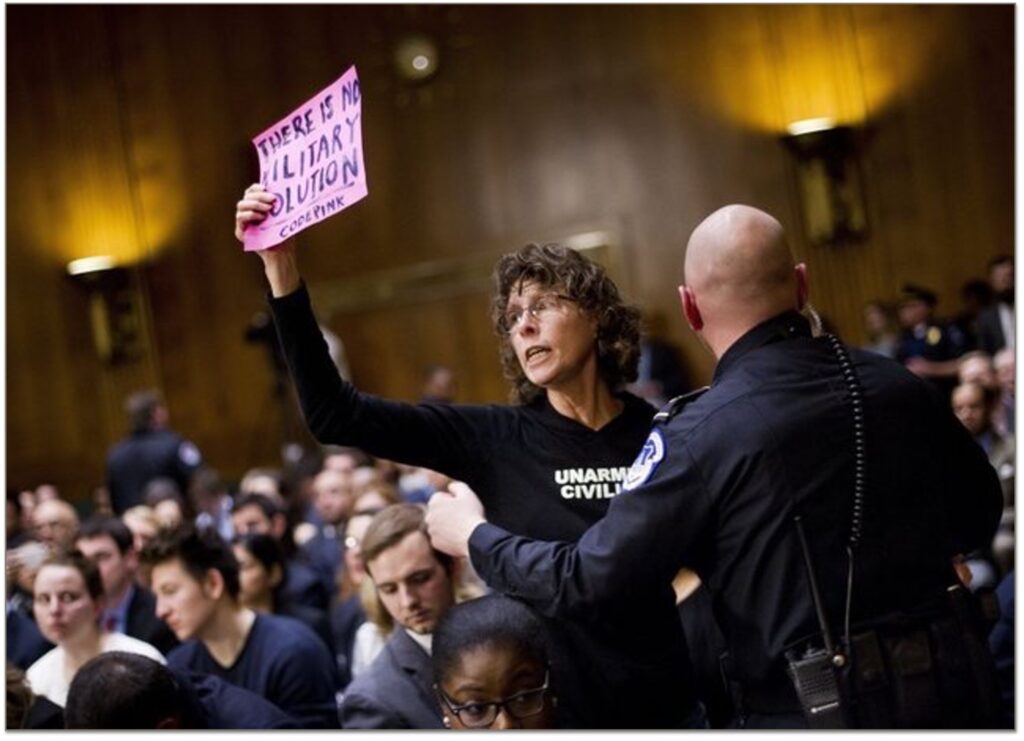 Helen Schietinger
Helen Schietinger was in the crucible where the Atlanta lesbian feminist movement was formed. She went to Cuba on the Venceremos Brigade with other Atlanta women in 1970 and on returning, they joined other feminists, forming a fluid series of communes. Living communally involved coming out for those not already self-identified as lesbians, developing a lesbian feminist analysis of the revolutionary struggle, and establishing solidarity with other liberation struggles (in particular the Black Power movement and the Wounded Knee Occupation of 1973). During those years she went to nursing school and co-parented a child with her commune. After a nursing career focused most intensely on AIDS, she is retired in Washington, DC, where she continues to be a human rights activist.
---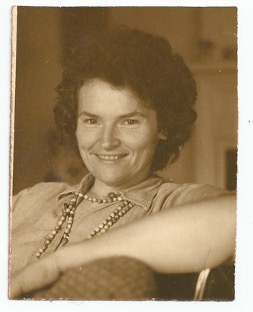 Eleanor Smith
Eleanor Smith was born in the Midwest in 1943, one of 5 siblings in a Mennonite family, and has used a wheelchair since getting polio at age three. She came out as a lesbian in Kansas, 1962. In 1974, she moved to Atlanta and became active in the Atlanta Lesbian Feminist Alliance, marching with ALFA in the 1975 Atlanta Gay Pride Parade and the 1979 March on Washington. Eleanor co-founded the Atlanta Feminist Women's Chorus (1981). In the early 1980's she worked as a counselor at Karuna, a feminist counseling collective. During that time, she also became deeply involved in the disability rights movement.