A Message from the GSU Library's Dean and Leadership Team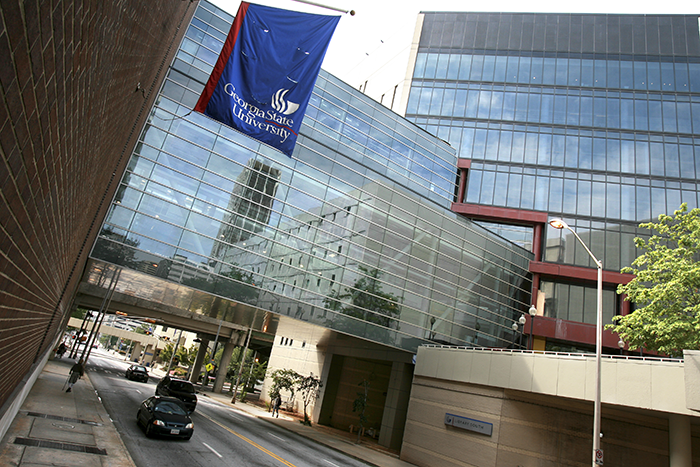 As demonstrations for racial justice have swept the country and the globe, we share the outrage and sadness over historic oppression, systemic inequities, and daily injustices. We believe that silence is complicity and action is necessary. In this context, members of the Georgia State University Library community have been reflecting on how we can work for change.
I believe we can start by remembering our organizational values. One of the University Library's key values is diversity: "We value all employees and users regardless of race, color, sex, religion, creed, age, sexual orientation, gender identity, disability, veteran status, or national origin, and strive to create a climate of openness, respect and appreciation." I know that I, and our organization, often fall short and must do better.
Some specific steps the University Library has taken in recent years include providing training for managers on best practices for recruiting diverse job candidates, understanding bias, and reducing microaggressions; revising job descriptions for faculty vacancies to emphasize our diversity values; inviting keynote speakers to inspire our diversity work at our annual employee development day; and, in order to make the library more inclusive and welcoming to all, distributing buttons to celebrate students' gender identities at the start of the last academic year. Some results of this work include increasingly diverse faculty candidate pools and expressions of appreciation from students who found a place of inclusion in the library. Perhaps the most important step, as we look to accelerate our work, has been a grass roots discussion and subsequent call for a task force, which led this April to the creation of a permanent Diversity, Inclusion, and Accessibility (DIA) Committee, to advise the Library.
The Library has taken a couple additional small steps in the past few weeks. We have used our blog to highlight reading lists, compiled by our librarians, of works that our community can read to grow in understanding and empathy on topics including systematic racism and inequities in the criminal justice system. We also added online access to several titles on these lists. Yet we have far to go to. Our newly-formed DIA committee has called upon the entire library team to support President Becker's call for "each and every member of the Georgia State community to stand in solidarity in rejecting racism and violence and to commit to building a better future where opportunity is real and just." Today I want to share a few specific steps we are taking to advance the cause of equity and justice.
Our DIA committee called on us to "center voices not traditionally well represented in academic libraries." I have asked our collection development department to continue building our collection of ebooks on antiracism reading lists. Ebooks allow multiple GSU community members to access the books at the same time and despite the challenges posed by COVID-19. I hope these resources can be useful for personal growth and for faculty members reworking their syllabi for the fall.
The committee also asked for clarity, training, and library-wide conversation on safety, security, and our relationship with campus police. We have engaged in an initial discussion between library leadership and the DIA committee to begin this dialog.
The committee called on library employees to acknowledge "the pain, trauma, and anger many of our colleagues are suffering" and "learn about race and racism in the United States and Atlanta." The university sits on land taken from the Muscogee Creek people. The downtown library is located on property appropriated, through the urban renewal program of the 1960s, from working class Black, Jewish, and immigrant communities who lived and conducted business here (Newman, 2000). Today, more Black students graduate from GSU than any other nonprofit university in the U.S. For decades, however, the college that was to become GSU excluded Black applicants, and the University System of Georgia only integrated when forced to by brave leaders, including Barbara Pace Hunt, Iris Mae Welch, and Myra Elliott Dinsmore, the three women who sued to integrate Georgia State (Daniels, 2019). I propose the University Library create a permanent exhibit in the Atlanta library that explores the history of this place.
Georgia State University, and the GSU Library, are works in progress. The university has received national attention for fixing broken systems and eliminating disparities in graduation rates. The university admits all qualified applicants, rather than gaming rankings though exclusion. The university has committed to racial justice through such initiatives as the Commission for the Next Generation of Faculty and the newly formed Task Force on Racial Equality. The University Library's leadership is committed to the call from the DIA Committee to "create a more equitable and inclusive workplace" and "to dismantle oppressive structures and build in their place a more just world." We look forward to working together as a team, with the support of the university, GSU alumni, and the broader Atlanta area community, in this essential work.
Jeff Steely, Dean of Libraries,
on behalf of the Georgia State University Library's Leadership Team
Daniels, M. C. (2019). Ground crew: The fight to end segregation at Georgia State. University of Georgia Press.
Newman, H. K. (2000). Decatur Street: Atlanta's African American paradise lost. Atlanta History, 44(2), 5.