Meet a Librarian: Ellen Barrow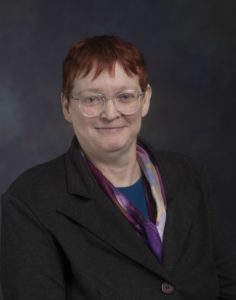 Who is Ellen?  
Ellen is a Librarian Assistant Professor at the Perimeter College Clarkston library. She provides reference services, teaches library instruction classes, and is the subject liaison for Anthropology, History, Political Science, and World Languages. Her research is focused on the history of American abolitionism and the impact of making historical artifacts accessible to undergraduate students.  
What and where has Ellen studied? Did she always plan to be a librarian? 
Ellen earned a Bachelor's degree in Anthropology from University of South Dakota, and a Masters of Library Science from Emporia State University in Kansas. She has completed some post-graduate Humanities studies at California State University – Domingo Hills.  
Ellen planned on becoming an Anthropologist, before becoming a librarian. However, during her undergraduate career while working on research projects, Ellen worked at the law library. She loved the environment, the people, and the opportunity to teach research skills to other students.  This work experience prompted her to attend graduate school for a library degree.  
Where else has Ellen worked?  
Right before she came to Perimeter College Clarkston, Ellen was the director of a public library in South Carolina. Aside from libraries, Ellen's work experience runs the gamut! She's worked on a ranch, attended welding school, washed dogs, and worked in a greenhouse. Ellen also worked several lambing seasons. She uses some of the skills that she learned helping sheep have their babies in her current work with students–patience and expect the unexpected.  
What does Ellen think is important about the Clarkston campus? 
Clarkston is one of the oldest campuses at Perimeter. The people are wonderful, and there is an enormous amount of diversity. Clarkston is a pretty campus with a lot of trees and lots of parking! 
Quick Facts About Ellen: 
Cake or pie?: Her mother's apple pie. Ellen continues the tradition using the same recipe.  
Favorite Book: The Last Crossing by Guy Vanderhaeghe 
Favorite Movie: Days of Heaven (1978) starring Richard Gere, Brooke Adams, and Sam Shepard.  
Hot tea or iced tea?: Hot tea, specifically PG Tips, a very good British black tea. It's a "power tea that will make your spoon stand up!" 
Pets: A cat named Mihira. She adopted this charming, sweet cat from PAWS Atlanta in 2006. He's a big love bug who's constantly purring at everyone he meets. Mihira also loves watching television. He's partial to The Waltons, Daniel Boone, TCM classic movies and anytime another animal appears on the screen!
Interviewed by Jennie Law