Data in the ATL, with Landon Reed – Oct. 20 @ 11:00
Join us Friday, Oct. 20 from 11:00-12:30, for the next in our series of Data in the ATL talks sponsored by Georgia State University Library, which connect the University community with prominent members of the Atlanta data community. Invited speakers show the importance of data science in making informed decisions in their chosen vocations and how they use data analysis and expertise in their daily work to create a better Atlanta and world.
Location: CURVE, Georgia State University Library, 2nd floor of Library South, 103 Decatur Street SE, Atlanta, GA 30303
Featured Speaker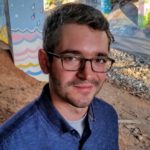 Landon Reed, Project Lead, Data Tools at Conveyal
Conveyal is a start-up transportation and land-use analysis consultancy based in Washington, D.C., with offices in Atlanta, Paris, Portland, and New York City. At Conveyal, Landon is working to build open source, next generation tools for sustainable transportation, with particular focus on multimodal routing and trip planning, transportation network analysis, and data management and visualization.
Register online. Seating is limited.