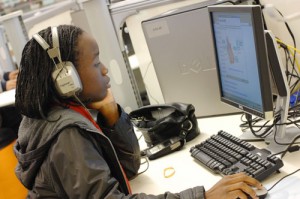 If you find searching the library catalog and databases baffling or wonder how to tell a "reputable" source from a poor one, we have a webinar for you!
Starting Monday September 25, the library is offering a series of webinars for those new to research as well as those new to Georgia State University's particular research tools and collections. These one-hour webinars are open to everybody (even faculty!) but are especially designed to meet the research challenges typical of freshmen and sophomore students.
Click on the title of the webinar for more information and registration:
Library Research Basics 
Learn to find books, articles, and more in the catalog and databases, plus the many ways to get librarian help.
Monday, Sept. 25 @ 3 pm
Can You Believe It?! What's real, what's fake, what's scholarly?
Put your information sources to the test and find out how to look at the news with a discerning eye.
Tuesday, Sept 26 @ 3 pm
Online Library Research Basics 
Learn tips and strategies for using GSU's research databases, including the GALILEO Discover tool.
Wednesday, Oct 18 @ 2 pm
Literary Research Basics 
Find online information resources about literature topics using databases and search tips specific to literature.
Wednesday, Nov 1, 2017 @ 2 pm
All webinars are recorded (technology permitting) so check out the webinar archives if you can't make it to one of these webinars or if you just can't wait and want to see a similar webinar from a previous semester.
Registration is encouraged. Registrants will be emailed reminders, updates, and links to archived recordings.
Also check the library workshop schedule for more topics taught face-to-face and online.
Questions about webinars? Contact Mary Ann Cullen at mcullen@gsu.edu