Data in the ATL, with Mike Carnathan – Sept. 15 @ 11:00
Join us Friday, Sept. 15 from 11:00-12:30, as we kick off a new speaker series, "Data in the ATL," sponsored by Georgia State University Library that connects the University community with prominent members of the Atlanta data community. Invited speakers show the importance of data science in making informed decisions in their chosen vocations and how they use data analysis and expertise in their daily work to create a better Atlanta and world.
Location: CURVE, Georgia State University Library, 2nd floor of Library South, 103 Decatur Street SE, Atlanta, GA 30303
Featured Speaker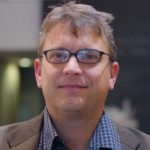 Mike Carnathan, Manager of the Research & Analytics Division at the Atlanta Regional Commission and is one of the founders of Neighborhood Nexus, a community intelligence system providing data, tools and expertise as a catalyst to create opportunity for all of the Atlanta region's citizens. The goal is to foster a data-driven decision-making culture in the Atlanta region and beyond. Mike helps members of our community tell their story better through a data-driven approach.
Register online. Seating is limited.