Organizing and writing research literature reviews got you down? Come to this workshop!
NVivo for Literature Reviews
Monday, March 6, 2017, 10:30am – 12:00pm, Classroom South 403 – REGISTER HERE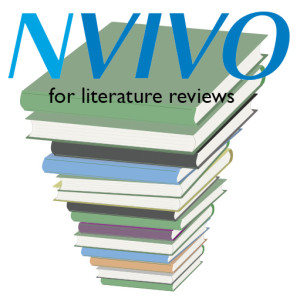 Writing a literature review involves reading text sources, pulling out or "coding" themes in those sources, exploring and analyzing the patterns among those themes, and then presenting a narrative of the insights that the existing research lends your own original research. This can be a pretty daunting task. Fortunately, tools like NVivo can help you find connections and organize your thoughts.
In this session, learn how NVivo can help you improve your literature review writing workflow. You'll learn how to:
Import references from Zotero or EndNote

Organize and classify the literature by source types

Code the literature for major themes

Do text and coding queries to explore themes
Presenter: Mandy Swygart-Hobaugh, Sociology, Gerontology, and Data Services Librarian.
Need help with search strategies for collecting relevant research literature? Consider attending these other workshops:
Literature Reviews for the Humanities – Wednesday, March 1, 2017, 12:00pm – 1:00pm, Library North Classroom 1 (1st floor, near Saxby's) – REGISTER HERE
Literature Review for the Social Sciences – Wednesday, March 8, 2017, 12:00pm – 1:00pm, Library North Classroom 1 (1st floor, near Saxby's) – REGISTER HERE