In Memoriam: Bharati Mukherjee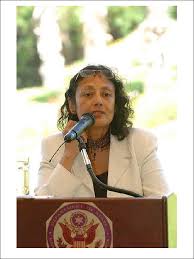 Indian-born American author, Bharati Mukherjee died on Saturday, January 28, 2017.  She was 76.  Born July 27, 1940 in Calcutta to a wealthy Bengali family, Mukherjee was educated in India, England, Switzerland, and the United States.  She received a B.A. in English from the University of Calcutta in 1959, an M.A. in English and Ancient Indian Culture in 1961 from the University of Baroda, an M.F.A. in Creative Writing, and a Ph.D. in Comparative literature, both from the University of Iowa in 1963 and 1969 respectively.   Mukherjee held a variety of teaching posts before she was hired at the University of California, Berkeley in 1989; a position she held until her retirement.
Though born in India, Mukherjee spent her adult life in North America and considered herself an American writer.  Her fiction highlights the experiences of immigrants in America and frequently features the transformations that immigrants go through as they navigate and assimilate into a new culture.  Mukherjee's short story collection, The Middleman and Other Stories (1988) for example, features immigrant stories from the Caribbean, Middle East, and Asia and was the winner of the National Book Critics Circle Award for fiction.  Her best known novel, Jasmine (1989), is the story of a poor Punjabi young woman who makes her way to the United States and reinvents herself.
Mukherjee is the author of eight novels, four short story collections, three works of non-fiction, and a memoir (co-authored with her husband).   A selected list of her fiction includes:
Mukherjee is survived by her husband the writer, Clark Blaise, their son, Bernard, two grandchildren, and two sisters.