Open Access Week 2016: Open in Action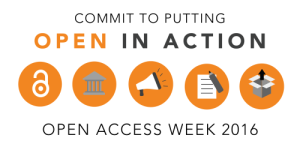 This week, October 24-30, is Open Access Week 2016. This year's theme is Open in Action. Open access means research is free to read online, with no subscription or payment required.
How is Open Access supported at Georgia State? Georgia State's Open Access institutional repository, ScholarWorks @ Georgia State University, enables new avenues for collaboration between scholars by making GSU authors' research available to any potential collaborator, anywhere, any time. The University Research and Services Administration provides funding for faculty to publish in the journals of 2 open access publishers, Hindawi and BioMed Central.
Recent faculty publications in open access journal include articles on diabetes, cloud computing, HIV risks in Uganda, religious "nones," monkeypox genomes, the measles virus, and the comparative science of self-control. By publishing in open access journals, these faculty articles reach audiences around the world who do not have access to expensive subscription journals or university library collections.
If you'd like to learn more about Open Access, or if you are affiliated with GSU and would like to explore adding your publications to ScholarWorks, please contact scholarworks@gsu.edu.