Celebrating Muhammad Ali, 1942-2016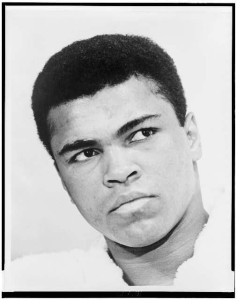 Muhammad Ali, born Cassius Marcellus Clay, Jr. in 1942, passed away on June 3, 2016. Still the only three-time world heavyweight champion, Ali was known for his powerful athleticism, his outsize personality, his controversial conversion to Islam as a young man, his resistance to the Vietnam War, and his strong racial pride.
Clay burst onto the boxing scene in 1960. Shortly after his first world heavyweight championship in 1964, an upset victory over Sonny Liston, Clay converted to Islam, changing his name first to Cassius X Clay and then to Muhammad Ali (calling his original name his "slave name"). Affiliating himself with Elijah Muhammad's Nation of Islam, Ali became a powerful force for racial pride and resistance to white domination.
Ali's vocal opposition to the Vietnam War had significant consequences for his early career. In 1966, following his refusal to be inducted into the Army due to his opposition to the Vietnam War, Ali was stripped of his boxing titles and was denied boxing licenses in every state. He was arrested and found guilty of draft evasion; following an appeals process, his conviction was overturned in 1971. During that time he spoke at colleges across the country opposing the Vietnam War and calling for racial pride and racial justice. In August 1970, thanks to State Senator Leroy R. Johnson, Ali was granted a license to box by the City of Atlanta Athletic Commission, and fought his first return bout against Jerry Quarry in October 1970 in Atlanta's Municipal Auditorium—now GSU's Dahlberg Hall. A federal court victory forced the New York State Boxing Commission to reinstate Ali's license.
Nicknamed "The Greatest," Ali is the only three-time lineal world heavyweight champion, winning the title in 1964, 1974, and 1978. He also fought in several historical boxing matches: in addition to his first fight with Sonny Liston, his famous fights included three fights with Joe Frazier ("Fight of the Century" [1971], "Super Fight II" [1974], and the "Thrilla in Manila" [1975]) and "The Rumble in the Jungle," versus George Foreman, which took place in 1973 in Kinshasa, Zaire (now the Democratic Republic of the Congo).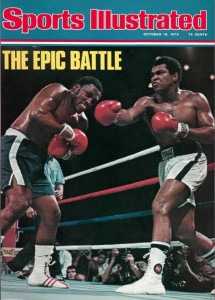 Ali retired from boxing in 1981. Given to poetic effusions ("float like a butterfly, sting like a bee"), Ali's vibrant personality and intense racial pride made him a fascinating, powerful, and provocative public presence . Time Magazine named Ali one of the 100 Most Important People of the 20th Century in 1999, and Sports Illustrated named him Sportsman of the Century. June 13's issue will mark Ali's 40th time to appear on a Sports Illustrated cover.
After being diagnosed with Parkinson's disease in 1984, Ali helped to establish and fund the Muhammad Ali Parkinson Center in Phoenix, Arizona. See Ali light the Olympic Cauldron at the 1996 Atlanta Olympics below:
In 2005, the non-profit Muhammad Ali Center opened in his hometown of Louisville, Kentucky, displaying his boxing memorabilia but also focusing on broader themes of peace, social responsibility, respect, and personal growth. He received the Presidential Medal of Freedom from President George W. Bush in 2005.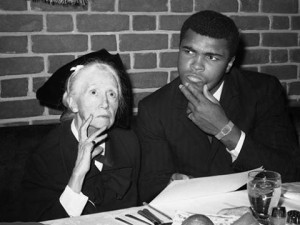 An irrepressible figure, Ali appeared frequently in print and broadcast media. His vibrant personality made him ideally suited to mass media coverage of all kinds–including a poem he wrote with poet Marianne Moore. His legacy lives on in photos, films, and broadcasts of all kinds. Just a sampling of online collections of Ali in the media:
Currently London's O2 Arena is featuring an exhibit on Ali; the New York Daily Magazine has published a gallery of images from this exhibit here.
Ali's autobiographical writings include:
Ali (still called Cassius Clay at the time) also released a spoken-word album, I Am The Greatest, in 1963. Listen to it here at the Boing Boing website.
A number of documentaries and films have been made about Ali, including:
The GSU Library also has numerous books about Ali's life and times, including: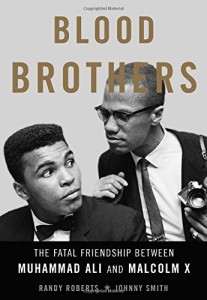 To find more books about Ali in the GSU Library, click the Catalog tab, click "Advanced Search," type "Ali, Muhammad, 1942-" into a search box and select "in the subject" from the drop box.