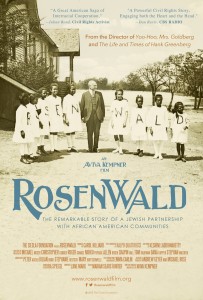 Join Georgia State University students, staff, faculty, and community activists as they discuss the film:
Rosenwald: The Remarkable Story of a Jewish Partnership with African American Communities.
Tuesday, June 14, in the Speaker's Auditorium in Student Center East.     
Film at 5:00pm ~ Discussion at 6:30pm ~ Reception at 7:00pm.
This film chronicles the partnership between Julius Rosenwald and Booker T. Washington in the creation of more than 5,500 schools for poor, rural African-American children in southern states between the years 1915 and 1932.
Sponsored by the Greatest MINDS Society, Black Graduate Student Association, Department of Religious Studies, Multicultural Center, Department of Sociology, Sociology Graduate Student Association, and the Center for Neighborhood and Metropolitan Studies.
Here are some GSU University Library resources that explore Washington and Rosenwald's contributions in this area:
Anderson, James D. The Education of Blacks in the South, 1860-1935. [eBook] Chapel Hill: University of North Carolina Press, 1988.
Ascoli, Peter Max. Julius Rosenwald: The Man Who Built Sears, Roebuck and Advanced the Cause of Black Education in the American South. [eBook] Bloomington, IN: Indiana University Press, 2006.
Bieze, Michael, and Marybeth Gasman. Booker T. Washington Rediscovered. Baltimore: Johns Hopkins University Press, 2012.
Deutsch, Stephanie. You Need a Schoolhouse: Booker T. Washington, Julius Rosenwald, and the Building of Schools for the Segregated South. Evanston, IL: Northwestern University Press, 2011.
Hoffschwelle, Mary S. The Rosenwald Schools of the American South. Gainesville, FL: University Press of Florida, 2006.