Dig Out Your Footie Pajamas: Library to Develop Super Snuggly Napping Space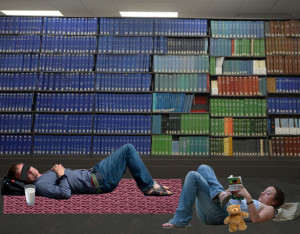 In an effort to accommodate sleep-deprived college students, the University Library Atlanta Campus has approved plans to modify the 5th Floor of Library South into an official nap time space.
The area—tentatively named "The Doze Zone"—will feature dim lighting, soothing music, dream catchers, and a faint lavender scent. Students will be able to borrow blankets, pillows, eye masks, and other sleepy-time accessories using their PantherCard and wake-up services will be available upon request.
"Georgia State University encourages students to follow their dreams," states Bryan Sinclair, Associate Dean of Public Services for the University Library. "Through this effort, the library will provide them a space to do that quite literally."
Renovations are currently underway, and the space is expected to be completed as early as April Fools' Day, 2016.