Reminder of workshop next week: What is your impact?
Going up for promotion and/or tenure within the next year, or want to get a headstart?   Need to identify researchers or journals by discipline?  Want to find out more about altmetrics?   In this workshop for Georgia State faculty and graduate students, Brenna Helmstutler will demo and discuss metric-based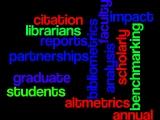 tools from library databases and other applications that will address these questions, and more.  Click here to register.
Date/Time/Location: Thursday, March 5, 2015 from 3:00-4:00 in Classroom 2, Library North 2nd floor.