Religious Studies Professor Co-edits Book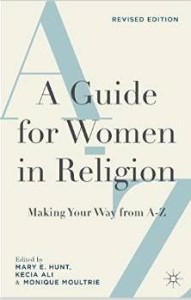 Congratulations to Dr. Monique Moultrie on the publication of her co-edited work A Guide for Women in Religion: Making Your Way from A-Z (revised edition), published by Palgrave Macmillan.
From the publisher:
The Guide is a welcome companion for women in religious studies. From undergraduates to retired professors, this distilled wisdom of several generations of colleagues is an important book to have handy. Whether seeking a job, preparing for tenure, working at a non-profit organization, entering the publishing world, figuring finances, mentoring or being mentored, the reader will find just what she (or he—men find it useful too) needs to know. This volume reflects the diversity of women's experiences, the range of opportunities, the pitfalls and promises of religious studies that span ministry, academia, and activism. It is a good investment for one's future career and a welcome gift for students. This second edition is updated to reflect the rapidly changing field, especially technological innovations.
Recent publications by Dr. Moultrie available through the University Library, include:
"After the Thrill is Gone: Married to the Holy Spirit but Still Sleeping Alone." Pneuma: The Journal of the Society for Pentecostal Studies 33.1 (2011): 237-253.
"New Perspectives On The Montgomery Bus Boycott." Journal Of African American History 94.1 (2009): 92-96.