Distinguished Speaker Series Brings Laverne Cox to GA State

As you may have heard, Emmy award-nominated actress Laverne Cox will be speaking at Georgia State on Wednesday, Feburary 4 (full details here) as part of the Distinguished Speaker Series! Ms. Cox is best known for her role on the Netflix series Orange is the New Black, portraying prison inmate Sophia Burset. In addition to acting on this hit show, Ms. Cox is a vocal advocate for transgender rights and works tirelessly to raise awareness about the discrimination faced by people in the transgender community.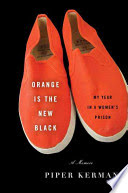 If you're interested in learning more about Orange is the New Black,  pick up the book from which the show was adapted.
Orange is the New Black: My Year in a Women's Prison
by Piper Kerman
Library North 4 / Call Number: HV9474.F66 K47 2010
(The DVDs for season 1 of the show are on order.)
We also have all sorts of materials on transgender studies, from the basics on transgender rights, to the representation of transgender people in film and television. Here are a few recently published items:
Finally, be sure to check out our research guides on Television and LGBTQIQA Studies for more great, in-depth resources.