9th Annual GSU Undergraduate Research Conference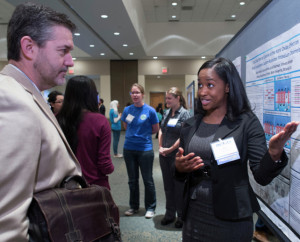 Each year, undergraduate students are invited to submit scholarly and creative projects to Georgia State University's Undergraduate Research Conference (GSURC). Submissions are now being accepted for this year's conference.
Undergraduates can submit proposals for a poster session, oral presentation, artistic/creative presentation, or musical performance.
Deadline for submissions is February 13, 2015. Students will be notified of acceptance in early March and the conference is scheduled for April 14, 2015, in the Student Center.
A recent poster presentation first place winner, Heather Velon, described GSURC as one of her most rewarding academic experiences, stating "GSURC was an amazing opportunity to gain insight into the research process and the work that goes into each step of a successful project. I gained helpful skills and met some truly great people. There is a uniquely rewarding feeling that comes with seeing the results of your hard work and presenting a conclusion from the data you have spent so much time with."
The GSURC web site provides sample submissions, important dates and deadlines, and detailed instructions on how undergraduates can submit a proposal.
If you are an undergraduate student and interested, consider attending a session on "Preparing your Submission for GSURC" on January 22, from 12:00pm – 1:00pm in Room 223 of the 100 Auburn Avenue Building.