The Library has created a guide in support of teaching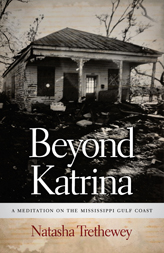 and learning related to this year's First Year Book selection, Beyond Katrina: A Meditation on the Mississippi Gulf Coast.   Want to find documentaries about Hurricane Katrina, learn more about relief efforts on the Gulf Coast, or find out what it means to be U.S. Poet Laureate?  You can find it all in our First Year Book Guide.
Need a copy of Beyond Katrina to read?  We have copies on reserve at the User Services Desk on Library North 1.