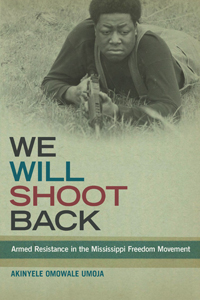 The Georgia State University Department of African-American Studies announces the publication of Prof. Akinyele Omowale Umoja's new book We Will Shoot Back: Armed Resistance in the Mississippi Freedom Movement (2013; on order). Prof. Umoja will give a talk and sign books at 7:00 p.m., Friday, May 10 at the Auburn Avenue Research Library on African American Culture and History.
Prof. Umoja is an Associate Professor and Chair of the Department of African-American Studies; he teaches courses on the history of the civil rights and Black Power movements, and on other social movements as well. He has been a community activist for over forty years.
Prof. Umoja is also the author of several articles, including:
Prof. Umoja's talk is free and open to the public. The Auburn Avenue Research Library is located near the Georgia State University campus, at 101 Auburn Avenue NE, at the corner of Auburn Avenue and Courtland Street. Walking and other directions are available here.