Honors College Launches Undergradute Research Journal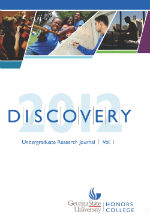 The first issue of DISCOVERY is now available through the Digital Archive @ Georgia State University.
DISCOVERY: Georgia State University Honors College Undergraduate Research Journal is an annual publication featuring peer-reviewed undergraduate research across a wide range of academic disciplines.
Students who participated in the 2013 GSURC (the Georgia State University Undergraduate Research Conference) or who have completed Honors Course 3260 and are enrolled at the University as of Spring semester 2013 are encouraged to submit their work for consideration in the second issue, which will be published this Summer.  Manuscript submissions are due by April 13, 2013.
Two Georgia State University Honors College student editors – Alexandra Simpson and Casey Fowler – will be responsible for selecting and publishing all content in the second issue of DISCOVERY, with oversight provided by Dr. Sarah Cook, Associate Dean of the Honors College and Professor of Psychology and coordination provided by Annahita Jimmerson, Senior Educational Program Specialist for the Honors College.
DISCOVERY is administered by the Georgia State University Honors College in cooperation with the Georgia State University Library.