Promotion and Tenure Tools Workshops by Subject Cluster: February 26-28
Going up for promotion and/or tenure?  Interested in finding out how databases and software applications can be used to show comprehensive evidence of  your scholarly impact?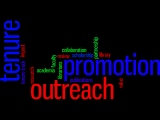 Georgia State University librarian Brenna Helmstutler is pleased to offer a series of workshops for faculty on the topic of promotion & tenure tools.    To register, please select the relevant workshop below:
Arts & Humanities, February 26
All workshops will be held from 3:00-4:00 p.m. in Classroom 1, which is on the 1st floor of Library North.
Using the tools available within the library's subscription databases, resources, and free software applications can yield the following benefits for faculty:
More substantial evidence of scholarly impact than mere citation counts, which offers a stronger promotion & tenure narrative statement in these times of competitive criteria.
The tools are user-friendly; most are accessible 24/7 online.  These are all available on Helmstutler's Promotion & Tenure Tools Research Guide.
Subject librarians for each department are trained and available to assist in using the tools.
This emerging service addresses the library's overall mission to support Georgia State University faculty research and more specifically, one of its strategic initiatives: to use new, emerging, and established technologies to support the research, teaching, and learning of faculty and students.