Center for Research Libraries: A Wealth of Resources Available to You

Georgia State University Library belongs to a special partnership of libraries called the Center for Research Libraries (CRL).  CRL acquires and preserves traditional and digital resources for research and teaching and makes them available to member institutions.
Members of the GSU community can request CRL material through Interlibrary Loan.
Currently, CRL holds approximately five million rarely-held books, journals, pamphlets, newspapers, and other primary-source materials in the humanities, sciences, and social sciences from all regions of the globe.  Collection strengths include:
-6500 international newspapers and 2500 US newspapers
-38,000 foreign journals
-800,000 foreign dissertations
-in-depth holdings that support research in economics, government, immigration and population studies, history of science, cultural and area studies, and more
To find out more about CRL's collections, check out their newsletter or topic guides.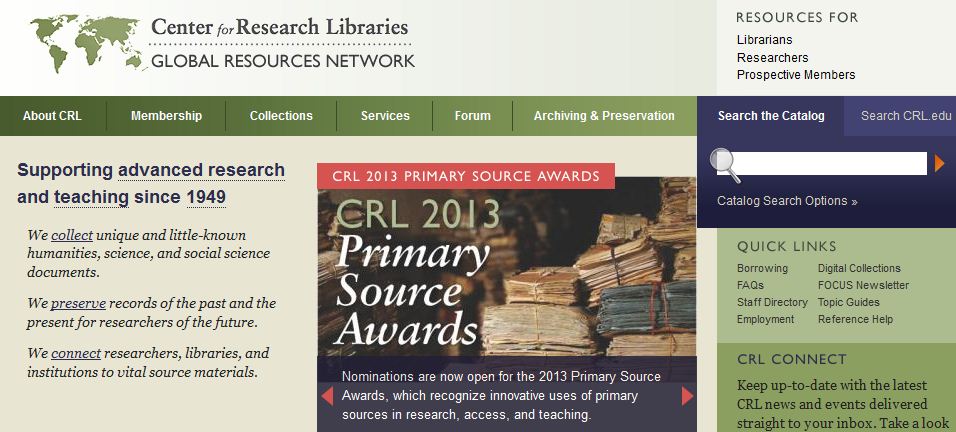 In the last two years, GSU community members have used over 600 items from CRL's collections.  The History department uses CRL the most.  The Economics, Biology, Chemistry, and Communications departments are also significant users.  CRL enables our patrons to access unique and rare materials that might not be available to them otherwise.  Some highlights:
Unlike many libraries, CRL offers long loans and will lend many items at once.  We borrowed over 180 issues of the periodical Chinese Literature for a graduate student in the History department.  We were able to keep these issues for two years while the student completed the research project.
CRL supplied a dissertation from the University of Wales to a faculty member in Political Science.  CRL is the only library in the world that could lend this to us.
CRL uses member requests to help guide its digitization program, and will digitize requests if feasible.  They digitized 8 years (3000 scans) of the weekly newspaper Boston Pilot for an undergraduate student in the Economics department.
Search the CRL catalog to find materials for you own research in these rich and valuable collections.  To use these materials make a request through Interlibrary Loan.