Guest Lecture on Rio de Janeiro's Favelas and Sustainable Development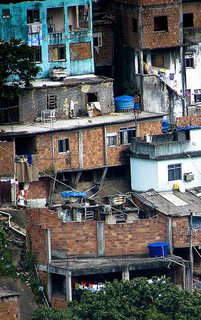 GSU's Center for Latin American and Latino/a Studies and the Department of Anthropology are sponsoring a lecture by Dr. Theresa Williamson, Founder and Director of Catalytic Communities (CatComm) in Rio de Janeiro, Brazil.
Favelas at the Vanguard: Rethinking Our Assumptions in Sustainable Development
Friday, November 2, 2012
4pm – 6pm
Rialto Center for the Arts – Lobby
Since 2000, CatComm has played an important part in highlighting sustainable and creative practices that emerge from favela communities. In the lead-up to the 2014 World Cup and 2016 Summer Olympics, CatComm is the only organization in Rio working at the intersection of community development, social media, and global networks. CatComm has worked with over 2000 leaders in more than 250 low-income communities in Rio.
The lecture will be followed by a discussion with GSU students who have recently studied abroad in Brazil.
For more information contact Cassandra White (cwhite@gsu.edu) in the Department of Anthropology.
Read more about favela communities in these library resources: