New book by GSU Education Professor Elizabeth A. Steed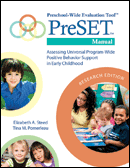 Congratulations to GSU Education Professor Elizabeth A. Steed on her recently-published book:
Steed, Elizabeth A., and Tina M Pomerleau. Preschool-wide Evaluation Tool (PreSET) Manual: Assessing Universal Program-wide Positive Behavior Support in Early Childhood. Research edition. Baltimore: Paul H. Brookes Publishing Co., 2012.
"How well is your early childhood program implementing positive behavior intervention and supports (PBIS)? Now there's a comprehensive tool that helps programs find out how well their interventions are working— and what areas they need to work on to improve children's social-emotional skills and behavior.
Based on the widely used and highly regarded School-wide Evaluation Tool (SET), PreSET™ assesses program-wide PBIS in all types of early childhood settings. Conducted twice a year by an unbiased outside observer— such as a behavior consultant, inclusion coordinator, or school psychologist— PreSET™ takes an accurate snapshot of a program's PBIS through a review of program documents, classroom observations and interviews with the administrator, teachers, and three children from each classroom." [from publisher's site]
Also, check out an earlier publication:
Steed, E. A. (2011). Adapting the Behavior Education Program for Preschool Settings. Beyond Behavior, 20(1), 37.