National Hispanic Heritage Month: Spotlight on Junot Diaz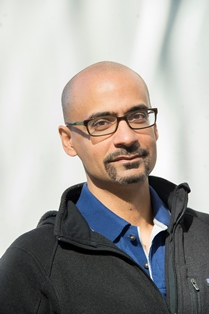 Junot Diaz's writing career is on FIRE.
It is fortuitous that in the middle of National Hispanic Heritage Month a widely celebrated Latino author is being recognized for two major accomplishments:
His new book This is How You Lose Her made the New York Times Best Sellers List (Hardcover Fiction).
He was awarded a $500,000 MacArthur Foundation "Genius Grant."
Diaz is also a 2008 recipient of the Pulitzer Prize for Fiction for his book The Brief Wondrous Life of Oscar Wao.
His first book, Drown, was acclaimed widely as well and won the American Library Association Notable Book, PEN/Hemingway Best First Novel, National Magazine Award for Fiction (Finalist), and Barnes & Noble Discover Great New Writers Award.
In the new book, Diaz adapts his stories from previously published material.  Look for the originals before reading This is How You Lose Her. All stories from The New Yorker can be found in print on Library North 3 at call number Per. AP2 .N6763. GSU Library offers full-text access to the short story "Flaca." And the short story "Invierno" is held at Emory's Woodruff Library (where you can check out books using your Panther ID card).
The Sun, The Moon, The Stars (The New Yorker 2/22/98)
Nilda (The New Yorker 10/4/99)
Alma (The New Yorker 12/24/07)
Otra Vida, Otra Vez (The New Yorker 06/21/99)
Flaca (Story, Autumn 2009)
The Pura Principle (The New Yorker 03/22/10)
Invierno (Mother Knows: 24 Tales of Motherhood/A Glimmer Train Press book; Emory Libraries call number PS648 .M59 M564 2004)
Miss Lora (The New Yorker, 04/23/12)
The Cheater's Guide to Love (The New Yorker, 07/23/12)
Diaz was born in Santo Domingo, Dominican Republic.  He came to the U.S. at age six and his family settled in New Jersey. He graduated from Rutgers in 1992 and received and MFA in 1995 from Cornell University.  He currently lives in Cambridge, MA, where he teaches writing at MIT.