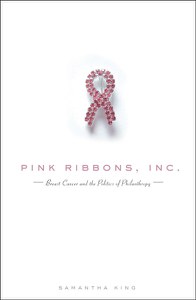 The GSU Women's Studies Institute announces the upcoming Anne L. Harper Annual Lecture in Women's Studies, to take place on Thursday, September 13, 2012. The speaker will be Dr. Samantha King, author of Pink Ribbons, Inc.: Breast Cancer and the Politics of Philanthropy (2006), and associate professor of Kinesiology and Health Studies at Queens University, Kingston, Canada. Her talk is titled "Imperial Charity: Commodity Feminism and The US-Middle East Partnership for Breast Cancer Awareness."
In
Pink Ribbons, Inc.
, Samantha King traces how breast cancer has been transformed from a stigmatized disease and individual tragedy to a market-driven industry of survivorship. Here, for the first time, King questions the effectiveness and legitimacy of privately funded efforts to stop the epidemic among American women. Highly revelatory—at times shocking—
Pink Ribbons, Inc.
challenges the commercialization of the breast cancer movement. (from publisher's information).
The talk will take place in the Brown Room, 18th floor of the Bennett A. Brown Commerce Building, 34 Broad Street (at Marietta and Broad) at 4:30 pm, following a reception from 4:00 – 4:30 pm. This talk is free and open to the public. For more information, please contact Andy Reisinger at areisinger1@gsu.edu or (404) 413-6582.