GSU receives $10 million grant to support adult literacy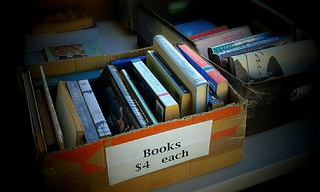 The books in the photo on the left  may be selling for only $4 each, but the ability to read them is truly priceless.  Poor literacy is often associated with poverty and can create intergenerational cycles furthering the ill effects of poor literacy on families and societies.
To help support literacy, the Institute of Education Sciences awarded $10M to GSU to establish the Center for the Study of Adult Literacy, a national research and development center.  The center will investigate ways to improve adult reading and will develop a reading intervention for adult learners.
Daphne Greenberg, principal investigator and associate professor of educational psychology and special education in the GSU College of Education stated here that "There is a need to understand the reading related strengths and weaknesses of adults who have difficulty with reading, and how to best help them increase their reading abilities."  Greenberg also expressed concerns about the intergenerational effects of poor literacy.
The study is a collaborative effort listing the following key personnel:
Maureen Lovett (University of Toronto and The Hospital For Sick Children), Art Graesser (University of Memphis), Jan Frijters (Brock University), Lee Branum-Martin (Georgia State University), Chris Oshima (Georgia State University), Robin Morris (Georgia State University), Xiangen Hu (University of Memphis), Mark Conley (University of Memphis), Andrew Olney (University of Memphis)
Here are a few of the GSU library's resources related to adult literacy:
Scholarly articles:
Greenberg, D., Levy, S., Rasher, S., Kim, Y., Carter, S., & Berbaum, M. (2010). Testing Adult Basic Education Students for Reading Ability and Progress: How Many Tests to Administer? Adult Basic Education and Literacy Journal, 4, 96-103.
Burke, V., & Greenberg, D. (2010). Determining readability: How to select and apply easy-to-use readability formulas to assess the difficulty of adult literacy materials. Adult Basic Education and Literacy Journal, 4, 34-42.
Nanda, A. O., Greenberg, D., & Morris, R. (2010). Modeling child-based theoretical reading constructs with struggling adult readers. Journal Of Learning Disabilities, 43(2), 139-153. doi:10.1177/0022219409359344
Greenberg, D., Pae, H., Morris, R. D., Calhoon, M., & Nanda, A. O. (2009). Measuring adult literacy students' reading skills using the Gray Oral Reading Test. Annals Of Dyslexia, 59(2), 133-149. doi:10.1007/s11881-009-0027-8
Books:
Ramdeholl, D. (2011). Adult literacy in a new era: Reflections from the Open Book. Boulder, Colo.: Paradigm Publishers.
Reder, S. M., & Bynner, J. M. (2009). Tracking adult literacy and numeracy skills: Findings from longitudinal research ([1st ed.].). New York: Routledge.
Jacobson, E. (2012). Adult basic education in the age of new literacies. New York: Peter Lang.