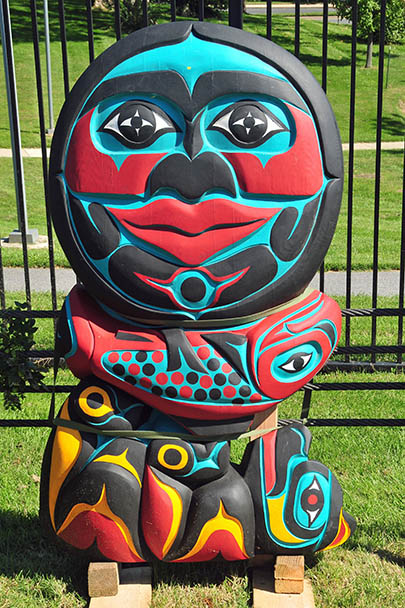 The U.S. National Library of Medicine exhibition Native Voices: Native Peoples' Concepts of Health and Illness explores the interconnectedness of wellness, illness, and cultural life for Native Americans, Alaska Natives, and Native Hawaiians.  Whether in person or online, you can learn about the traditions of these people through dozens of interviews, images, and resources.
The National Library of Medicine's healing totem (to the right) was created by master carver Jewell Praying Wolf James, of the Lummi Nation in the Pacific Northwest, to promote good health.  It is located in the NLM Herb Garden in Bethesda, MD.
The stories depicted on the totem use symbols of the sky (raven, sun, moon, stars, fire), the earth (bear, plants, habitat), water (ocean, river, moon cycles with tides), and the creative power and wisdom of women as leaders and healers. Totems display these symbols to awaken our awareness of the meaning and interconnectedness of life and the environment, and the collective knowledge of all races of humanity.
The GSU University Library has many books dealing with native people's health and traditions.  Check them out here to learn even more.