The Final Flight of the Space Shuttle Discovery
If you looked up at the sky on the morning of April 17, you might have spotted a once-in-a-lifetime sight: the Space Shuttle Discovery's final flight. Discovery, hitching a ride on the back of NASA's Shuttle Carrier Aircraft, flew from Kennedy Space Center in Florida to the Smithsonian National Air and Space Museum Steven F. Udvar-Hazy Center in Virginia. NASA's Space Shuttle page details Discovery's last flight, and Flickr's Space Shuttle Discovery pool gathers pictures from NASA and spectators who caught Discovery flying overhead.
Interested in learning more? The GSU library has many relevant books, including these: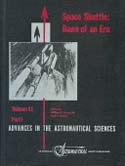 Take a look back in time with the American Astronautical Society's Space Shuttle: Dawn of an Era: Proceedings of the 26th AAS Annual Conference. The conference, held two years before the Space Shuttle Columbia made its first orbital flight, captured the excitement and promise of NASA's new program.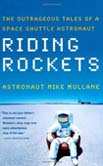 Colonel Mike Mullane's Riding Rockets: The Outrageous Tales of a Space Shuttle Astronaut covers his three missions on Shuttles Discovery and Atlantis. As a member of the first group of Space Shuttle Astronauts, Mullane covers everything from bizarre fellow astronauts to the Challenger disaster.
For a look at the future after the Space Shuttle, try the National Research Council's Recapturing a Future for Space Exploration: Life and Physical Sciences Research for a New Era. The era of the Space Shuttle may be over, but the era of space exploration is not.