Th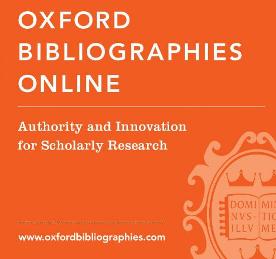 e library has added a new electronic reference source to its collection: Oxford Bibliographies Online.
Developed cooperatively with scholars and librarians worldwide, Oxford Bibliographies offers exclusive, authoritative research guides. Combining the best features of an annotated bibliography and a high-level encyclopedia, this cutting-edge resource guides researchers to the best available scholarship across a wide variety of subjects.
Georgia State University has access to the following subjects in Oxford Bibliographies Online:
Atlantic History
Buddhism
Criminology
Hinduism
International Relations
Islamic Studies
Military History
Philosophy
How can Oxford Bibliographies help you?
For Researchers and Faculty: A Springboard for Research
High-level overviews of scholarship authored by top scholars in the field to get you up to speed quickly on topics beyond your areas of expertise
Expert recommendations on the best works available – with seamless linking to full-text print and online content – save time in syllabus and reading list preparation
A first stop for new research, a source for texts to incorporate into a course, and an indispensable supplement to use alongside course texts
For Students: Authoritative Guidance from Top Scholars
Scholarly articles provide narrative pathways through the key literature on a topic, offering a trustworthy research starting point
Multiple peer reviews and Editorial Board vetting ensure that recommended resources are scholarly, accurate, and objective
User-friendly interface and intuitive linking saves valuable research time by directing students to exactly the right chapter, book, Web site, archive, or data set they need for their research
Promotes critical thinking about sources and give students the means to negotiate and identify quality scholarship
To access this database, click on the Discover tab on the Library homepage, then click on the letter "O" on the Databases by Name A-Z list and scroll down.