Make the Library's Mobile Site Yours!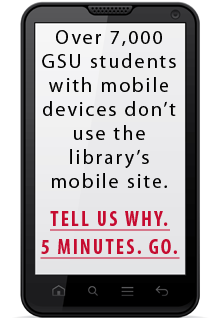 According to our data, 13,900 different people have used the mobile version of library.gsu.edu since its launch in August of 2011. That's roughly 45% of Georgia State's population!
But over 70% of Georgia State students own mobile devices, from tablets to smart phones. That means 25% of you (about 7,600 people) aren't taking advantage of our mobile service.
The library recognizes that mobile access to our resources and services is in high demand. We want to make sure that we're providing a mobile site that meets your research and learning needs.
To help us achieve that goal, please fill out our new survey so we can optimize your experience and prioritize which new features we add to the site!