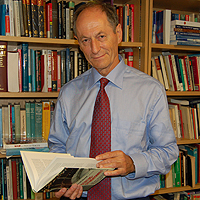 Sir Michael Marmot will be appearing at GSU!  Professor Marmot is Director of the International Institute for Society and Health, and Professor of Epidemiology and Public Health, at University College, London.  He is also the Chair of the World Health Organization (WHO) Commission on Social Determinants of Health.
Tuesday, March 13, 2012
11:00am
Senate Salon, Student Center, GSU
 According to the WHO,
"The social determinants of health are the conditions in which people are born, grow, live, work and age, including the health system. These circumstances are shaped by the distribution of money, power and resources at global, national and local levels, which are themselves influenced by policy choices. The social determinants of health are mostly responsible for health inequities – the unfair and avoidable differences in health status seen within and between countries."
Find out more with Sir Dr. Marmot's seminal research study, Fair Society, Healthy Lives, and read up so you can ask him smart questions by checking out the library's copies of his books:
Click here for a PubMed search for citations to the HUNDREDS of articles he's written.