Thompson's "The Paralympic Athlete" published in advance of London Games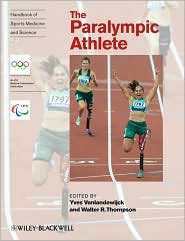 Congratulations to Walter R Thompson, Ph.D, Regents Professor in Exercise Science for the publication of his book, The Paralympic Athlete.  Dr. Thompson is a member of both the Department of Kinesiology and Health (College of Education) and the Division of Nutrition (School of Health Professions).
Dr. Thompson is the only U.S. member of the Sports Science Committee of the International Paralympic Committee (IPC), the global governing body of the Paralympic Movement.  The London 2012 Paralympic Games will take place between 29 August and 9 September 2012 after the Olympic Games.  According to the IPC website,
They will be the biggest Paralympic Games ever.  More than 500 gold medals will be up for grabs during 11 days of competition, as nearly 4,200 athletes from 150 countries will compete in 20 different sports.  Events include judo, track, archery, rowing, and cycling.
At a recent American College of Sports Medicine annual meeting Dr. Thompson chaired a special symposium on behalf of the IPC entitled, "Technological Advances in Olympic and Paralympic Sport".