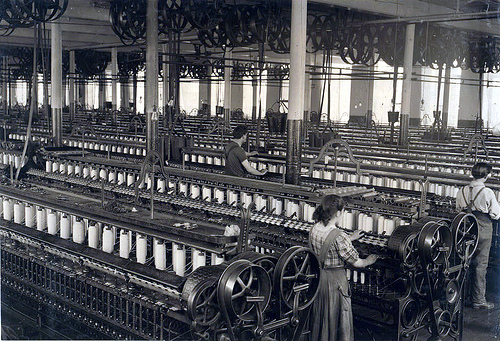 Americans are heavily focused on the economy right now, from the Occupy Wall Street movement to the tax rates of presidential candidates. Globalization, deindustrialization and activism are all elements of this dilemma. But did you know that these same factors influenced the disappearance of the entire wooden textile industry from New England?
On Thursday, February 16 at 3:00 p.m. James C. Benton will present "Lawrence, Massachusetts, and the Trade Liberalization Protest of 1938" on the 8th floor of Library South. Students and faculty interested in history, labor, economics, business, public policy, protest movements and sociology may be interested in attending this unique event.
Benton is the 2011 recipient of the Reed Fink Award, administered by the Southern Labor Archives, part of the Georgia State University Library. The award honors the contributions of professors Merl E. Reed and Gary Fink, both of whom were instrumental in the establishment, development, and use of the Southern Labor Archives at Georgia State University from the early 1970s. Benton's research makes use of the unique materials in the Georgia State University Library's collections to support his findings.
Benton holds two master's degrees in liberal studies and history from Georgetown University. He is currently pursuing a Ph.D. in U.S. History from the same institution. His research interests include twentieth century labor history and the loss of the United State's southern cotton textile industry. In addition he has 11 years experience as a journalist covering every level of government from township halls to Capitol Hill.
Photo courtesy of the Knoxville Museum of Art.