Preparing for 2012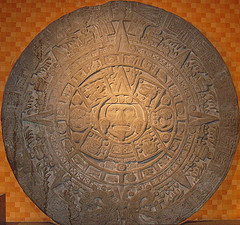 The semester is winding down and the winter solstice will soon be upon us.  It's now time to prepare for what many have predicted as our last year on earth!
Don't worry; David Morrison sets the record straight back in 2009 with his rebuttal of this  doomsday prediction.  Morrison answers questions submitted to NASA's website, Astrobiology: Life in the Universe.  You can read what he has to say in his article, "2012 and Counting: A NASA Scientist Answers the Top 20 Questions About 2012"
For more articles on topics like the 2012 doomsday prediction, Mayan calendar, or the end times, try searching Discover, the default search tool on the library homepage.
If you want to take a few books about doomsday predictions home for your holiday reading, the GSU library has you covered:
Restall, Matthew, and Amara Solari. 2012 and the End of the World: The Western Roots of the Maya Apocalypse. Lanham, Md.: Rowman & Littlefield Publishers, 2011. Library North 5: F1435.3.C14 R47 2011
Joseph, Lawrence E. Apocalypse 2012: A Scientific Investigation Into Civilization's End. New York: Morgan Road Books, 2007. Library North 5: CB161 .J67 2007
Jenkins, John Major. The 2012 Story: The Myths, Fallacies, and Truth Behind the Most Intriguing Date in History. New York: Jeremy P. Tarcher/Penguin, 2009. Library North 5: F1435.3.C14 J398 2009
Stuart, David. The Order of Days: The Maya World and the Truth About 2012. New York: Harmony Books, 2011. Library North 5: F1435.3.C14 S78 2011
If an ebook is more your style, check out Anthony Aveni's  End Of Time : The Maya Mystery Of 2012.