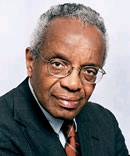 Derrick A. Bell, civil rights attorney and legal scholar – the first African-American to hold a tenured position at Harvard's Law School, died on October 5.  Mr. Bell was 80.
Mr. Bell is famous for his provocative thinking as well as his multiple resignations from positions, for reasons he considered to be a matters of principle.  In 1980 he resigned as Dean of the law school of the University of Oregon when the school would not hire two Asian-American women to the faculty.
Mr. Bell is also credited with developing Critical Race Theory (CRT). CRT "is a school of legal thought that focuses on the intersection between race and the law." (1) The start of the theory can be traced to articles Mr. Bell wrote in the 1970's such as the article published in 1976 in the Yale Law Journal "Serving Two Masters." (2)  His book Race, Racism & American Law is a classic in civil rights scholarship.
His memoir is Confronting authority: reflections of an ardent protester.
(1) Encyclopedia of Law and Society (vol. 1) p. 353
(2) Serving Two Masters: Integration Ideals and Client Interests in School Desegregation Litigation Derrick A. Bell, Jr. The Yale Law Journal Vol. 85, No. 4 (Mar., 1976), pp. 470-516  (Available through JSTOR)
(3) Photo from NYU Law – Faculty Profiles