WSB Radio Sound Recording Collection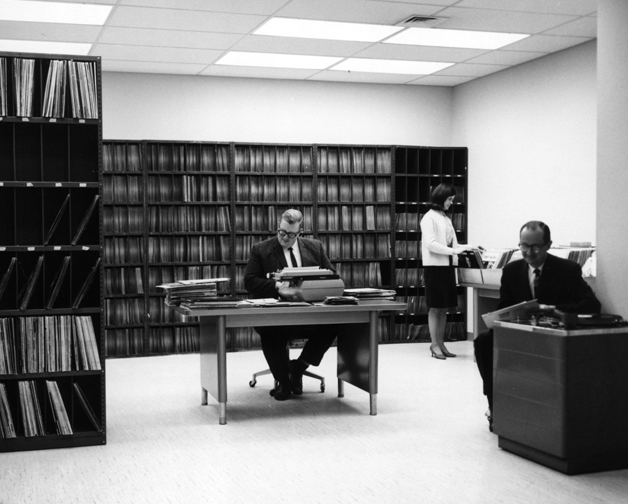 The Special Collections and Archives is currently processing a collection of over ten thousand 10" sound recordings, mostly 78 rpm discs from the WSB Radio Records.  These sound recordings are part of the nearly 60,000 records donated by WSB to GSU Special Collections.
The recordings in the collection encompass a wide range of genres including popular, jazz, and country music from the 1920s through 1950s.  They also represent an array of record companies such as the major labels Capitol, Decca, Columbia, and RCA Victor, as well as lesser known labels like Mars, Jubilee, Bullet, King, Trend, and Zodiac.
Although many of the 10" records in the collection date back as far as the 1920s, the overwhelming majority of the records are from the 1950s. This was an interesting and transitional time in the production of records. The 33.3 rpm vinyl long-playing record was developed in 1948 and gradually eclipsed the 78 rpm format during this time.  The stages of this transition can be seen in the WSB sound recording collection.
Examples of this include 10" vinyl records with the new microgroove technology.  These mid-20th century microgrooves are exhibited in single disc albums that contain three to four songs per side at 33.3 rpm.  They were the first descendants of the original record "albums."  Before microgrooves, labels sold actual books of five or more 10" 78 rpm singles.  These sets were designed to give the listener more music using the original 78 rpm format.  The term album lives on in our current concept of a collection of songs, packaged together, whether in a hard copy like a compact disc or digital download.
Questions about the music collection in the Special Collections and Archives should be directed to Kevin Fleming, archivist, Popular Music and Culture Collection, at 404-413-2880 or archives@gsu.edu.