Library Live Assistance
Georgia State University Library has been offering its Live Assistance chat service since 2004. The service, which is embedded on every page of the Library's website, makes it easy to exchange messages with a library employee for immediate assistance. As the years have passed, use of the service has grown exponentially. In fiscal year 2010,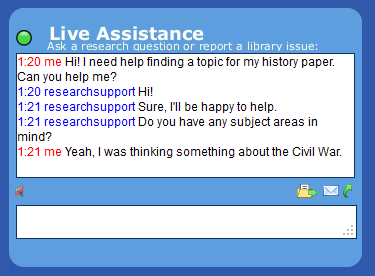 we had about 5,600 chat transactions with students, employees, and community members. In fiscal year 2011, we had almost 14,000 chats. Thanks for helping to make the service so popular!
Not sure what the Library's Live Assistance is for? It can be used to ask research questions, to get help finding books or articles, or just to report issues in the library facility. A faculty member from the Department of Political Science recently thanked the library for always providing a "quick, timely, informed response to any question that I have" through Live Assistance, and a student this week referred to the service as "life changing."
Our hours vary by term, but if you see the blue chat box on www.library.gsu.edu that says "Type here to chat," we're available to help you.