Data from the 2010 Census is slowly being released and as of today (July 21st),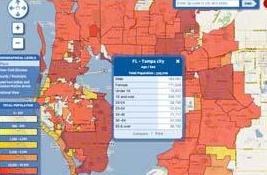 researchers that have been anxiously waiting for more 2010 Census data for Georgia now have access to this state's Summary File 1.
What's in Summary File 1?  According to the US Census Bureau, "Summary File 1 tables provide the most detailed counts available so far from the 2010 Census, including cross-tabulations of age, sex, households, families, relationship to householder, housing units, detailed race and Hispanic or Latino origin groups, and group quarters. The statistics are available for a variety of geographic areas, with most tables available down to the block or census tract level."
Explore the data yourself in the new American FactFinder.
For more historic and recent demographic data that can easily be mapped, take a look at Social Explorer, which is available from the University Library.