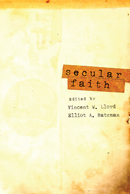 Congratulations to Dr. Vincent Lloyd, Assistant Professor in the Department of Religious Studies, on the publication of the book Secular Faith, which he co-edited with Elliot Ratzman.
The idea of "secular faith" brings to mind several questions, such as: "Is faith a necessary virtue in the contemporary world? May it be, or must it be, detached from religious commitment? What do genealogies of the secular tell us about faith? Does religion need secular faith? Secular Faith brings together leading and emerging scholars to reflect on the apparent paradox of "secular faith." Ranging over anthropology, religious studies, political science, history, and literature, from Muslims in China to Pentecostals in South Africa to a prison chapel in Texas, this collection of essays is as engaging and accessible as it is penetrating and rigorous."  Additional information on the book can be found on the publisher's website.
Vincent Lloyd received his Ph.D. from The University of California, Berkeley in 2008. His research focuses on philosophy of religion, religion and politics, race theory, modern religious thought, continental philosophy, and religion and literature. In addition to his teaching responsibilities in the Department of Religious Studies, Dr. Lloyd is an affiliate faculty member with the Jean Beer Blumenfeld Center for Ethics and the Department of African American Studies at Georgia State University.
Other books by Dr. Lloyd available in the University Library, include:
Law and Transcendence: On the Unfinished Project of Gillian Rose New York: Palgrave Macmillan, 2009.