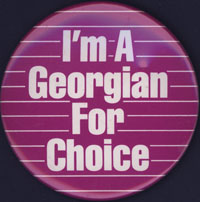 Part of the Women's Collection, the records of Georgians for Choice are now available for research in Georgia State University Library's Special Collections and Archives.
Formed in 1986, Georgians for Choice brought together 16 organizations to protect and expand women's reproductive freedom in Georgia. Over time, Georgians for Choice grew into a 45 member coalition that served as a centralized source for media referrals. It had a video library on women's reproductive health issues, provided timely information on state and national legislation, issued a quarterly newsletter highlighting state, regional, and national events, made available speakers for panels and forums, monitored clinic violence, provided clinic escorts and training, testified before state legislative committees, and conducted in-district and Washington meetings with members of Congress.
In 2008 Georgians For Choice changed its name to SPARK Reproductive Justice NOW and its mission to "collaborate with individuals and communities to build and sustain a powerful reproductive justice movement in Georgia by developing and sharing a radical analysis in order to shift culture; mobilizing in response to immediate threats and; organizing for long term systemic change."
Correspondence and printed material, minutes and agendas, financial records, legal records, photographs, audio-visual records, artifacts and textiles document the legislative organizational advocacy and educational work of Georgians for Choice. Reference material documents legal issues, legislation, and various other organizations representing pro-choice and pro-life viewpoints. The Georgians for Choice records also contain materials relating to the administration, fundraising, and management of the coalition-based non-profit organization.