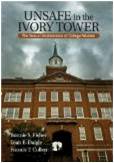 Congratulations Dr. Leah E. Daigle, Assistant Professor in the Department of Criminal Justice! Her book (with Bonnie S. Fisher
) was recently awarded the 2011 Outstanding Book Award by the Academy of Criminal Justice Sciences Board.
The award is given in recognition of outstanding contributions to criminal justice as an academic or professional endeavor.
The book "examines the nature and dimensions of a salient social problem-the sexual victimization of female college students today, and how women respond when they are, in fact, sexually victimized. The authors discuss the research that scholars have conducted to illuminate the origins and extent of this controversial issue as well as what can be done to prevent it." (publisher)