Daniel Dennett to Speak at Georgia State University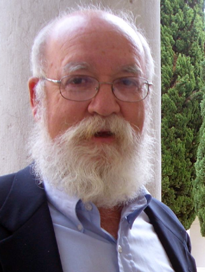 Renowned American philosopher and cognitive scientist, Daniel Dennett, whose research centers on the philosophy of mind, philosophy of science and philosophy of biology, is coming to Georgia State University to give two talks.
The first talk, entitled "My Brain Made Me Do It," is sponsored by the Philosophy Department Colloquium Series, the Neurophilosophy Forum, and the Neuroscience Institute, and will be given on Monday, Feb. 7 at 5:30 pm in the Speakers' Auditorium, Student Center (44 Courtland St.).
The second talk, entitled "The Human Mind as an Upside-Down Brain," is part of the Brains & Behavior Distinguished Lecture Series, and will be given on Tues, Feb. 8 at 10:00 am, in 124 Petit Science Center (100 Piedmont Ave).
Dr. Dennett is currently the Co-director of the Center for Cognitive Studies, the Austin B. Fletcher Professor of Philosophy, and a University Professor at Tufts University. He is the author of several books, including the following available in the University Library:
Consciousness Explained. Boston: Little, Brown and Co., 1991.
Darwin's Dangerous Idea: Evolution and the Meanings of Life. New York: Simon & Schuster, 1995.
Elbow Room: The Varieties of Free Will Worth Wanting. Cambridge, MA: MIT Press, 1984.
Freedom Evolves. New York: Viking, 2003.
Sweet Dreams: Philosophical Obstacles to a Science of Consciousness. Cambridge, MA: MIT Press, 2005.
For additional information, visit the web site for the Department of Philosophy.