Extended Hours, Restricted Access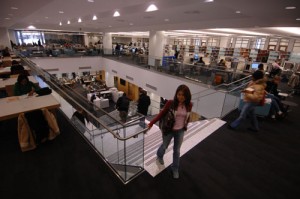 Georgia State University is definitely getting close to the end of Fall semester. Everyone's getting ready for finals. The campus is crowded and the library is no exception. On Twitter we noticed that one student even compared the library to Hartsfield-Jackson airport! During this busy time, the library makes two changes to its accessibility in order to benefit the students who need our resources and services during this period of intense study.
First, from December 7 – December 13, we have extended our regular hours:
| | |
| --- | --- |
| Tuesday, Dec. 7 – Thursday, Dec. 9 | 7:30 am – 2:00 am |
| Friday, Dec. 10 | 7:30 am – 8:00 pm |
| Saturday, Dec. 11 | 9:00 am – 6:00 pm |
| Sunday, Dec. 12 | 12:00 pm – 10:00 pm |
| Monday, Dec. 13 | 7:30 am – 2:00 am |
Second, from November 29 – December 14 we are closed to the general public. From our access policy (PDF):
During the week prior to final examinations, and during the final examination period, only currently enrolled students, faculty and staff from Georgia State University, the University System of Georgia, or ARCHE schools, with a valid institutional ID card, will be granted access to the University Library. Written permission for access during this time for other researchers must be arranged in advance.
If you're part of the Georgia State community, remember to bring your PantherCard, or you won't be allowed into the library. If you don't meet the criteria above, we re-open to the general public on December 15. However, we will be closed (with the rest of the university) from December 18 – January 3. Remember, you can always view our online calendar for information about hours and access.